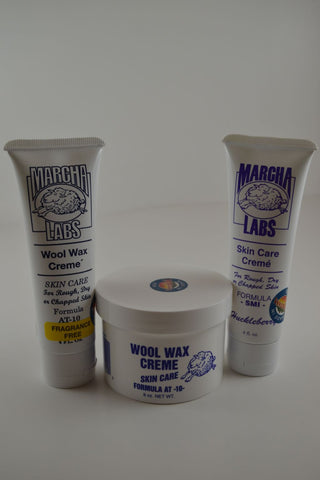 Wool Wax Creme is made from lanolin.  Not only does lanolin soothe your skin, it is also hypo-allergenic and bacteria static (limiting the growth of bacteria).  This makes the Wool Wax Creme very useful for medicinal purposes, especially when used at full strength.  Lanolin cream is most often used by breastfeeding mothers to sooth cracked or sore nipples.  Lanolin cream can also be used to relieve diaper rash, chapped lips, dry and itchy skin and cracked heels, but is not limited to these uses.  Wool Wax Creme is not limited to being used on just the hands and feet.  This amazing cream is helpful with all the areas of our body that are prone to dryness and chapping.   
Scent choice for the nine ounce jars are regular scent and fragrance free.  The scent choices for the squeeze tubes in regular scent, fragrance free and huckleberry scent.

  Made from lanolin, this Wool Wax Crème helps prevent chapping and heals rough, dry skin. Non-greasy, hypoallergenic. Provide relief with this heavy-duty skin treatment.The cost of the Wool Wax Creme is $16.44.  

The price includes the estimated shipping cost.  If the actual shipping is less, I will refund you that amount. 
Related Products
---